What are the alternatives to dentures?
There are several types of dentures and false teeth alternatives available. These include:
Dental implants
Overdentures
Tooth supported fixed bridge
Resin bonded bridge
Dentures are a common option for replacing missing teeth, but they aren't the only way to restore your smile. If you need dental options for missing teeth see the guide below.
Dental Implants
The procedure for a dental implant involves placing a metal post, or artificial tooth root, in the jawbone where the tooth is missing. A natural looking false tooth is then attached.
Dental implants are by far the most reliable tooth replacement system, appearing and functioning just like your natural teeth. With a success rate higher than 95%, it's no wonder dental implants are one of the most popular denture alternatives.
While dental implants may cost you more initially, they're extremely durable and have a long lifespan if properly cared for, making them a high value option.
Overdentures
Overdentures are inserted much like a dental implant, but are generally used for patients who are missing several or all of their teeth.
Overdentures are a more modern fake teeth option, overdentures offer more stability and security than traditional dentures. They're also more comfortable and aesthetically appealing, appearing more natural in the mouth.
Overdentures stimulate the jawbone when you eat and chew. This helps to slow down further bone loss that can occur when teeth are missing.
Tooth Supported Fixed Bridge
Used to replace a single tooth, a tooth supported fixed bridge requires the adjacent teeth to be grinded down in order to attach and support the bridge.
A tooth supported bridge may not last as long as an implant supported bridge, and generally requires more ongoing care and maintenance.
Resin Bonded Bridge
Another denture alternative, a resin bonded bridge is also used to replace a single missing tooth. This option uses 'wings' to attach to adjacent teeth and doesn't involve any grinding of healthy teeth.
Resin bonded bridges aren't as strong as fixed bridges, and don't last as long as dental implants.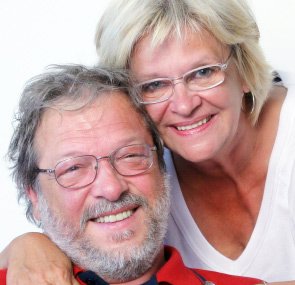 Find a Smile Dentist Near You!
Get in Touch
If your missing tooth has you feeling self-conscious, restore your smile and get quality and affordable dental care with a smile today. A smile.com.au approved dentist can help you find the perfect teeth replacement option for you.
Call us today on 1300 238 648.
Looking to save on your dental treatments?
Join smile.com.au for under $100 per year to save 15% to 40% on all dental fees at quality approved dentists.