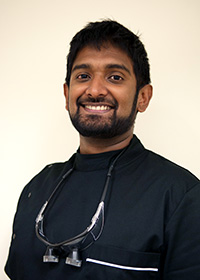 Dr. Jason Sebastian
Principal at Chadstone Dental Surgery
Jason is co-principal dentist at Chadstone Dental.
Born in Malaysia, Jason grew up in Indonesia, New Zealand and Sydney before his family settled in Melbourne in 1992. After graduating from Melbourne University in 2004, Jason worked in the beautiful high country of northeast Victoria. This is where he developed his unfortunate love of good cheese and wines!
While working in private practice he has also travelled to India to provide volunteer dental treatment and has been a clinical demonstrator to dental students at the Royal Dental Hospital Melbourne for 5 years.
In his free time he enjoys cooking, swimming and playing the violin. He has worked at Chadstone Dental as an associate dentist since 2007 and recently became co-principal. Jason is gentle while working and great with kids. He believes that patient education (and flossing!) is the key to keeping your teeth for life.
---
Suite 0153, 1st Floor, Chadstone Shopping Centre
Chadstone Place
CHADSTONE VIC 3148
Zoom in